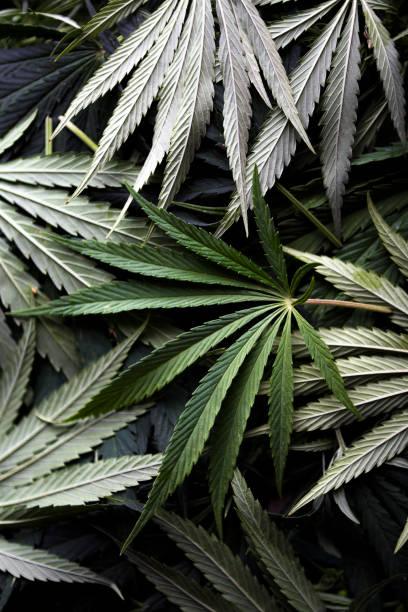 Arden Fanning Andrews on the aromatherapy benefits of smelling CBD.
Are the next CBD-mania power moves coming to life in the form of low-key olfactory updates? For those that can't get behind the idea of smoking cannabis, or even consuming it the ever-popular candy form a la Lord Jones's culty gum drops, there's a subtle approach to absorbing its benefits that even the timid customer can enjoy. New studies show that aromatherapy is harnessing the effects of cannabidiols thanks to internal receptors can that trigger everything from healing responses to improved mood, enhanced focus, and a happily chilled-out nervous system. It's a conversation that's spreading across wellness fields like wildfire. "The olfactory system, from the nose to the brain, is responsible for the positive effects experienced from aromatherapy," explains Mona Dan, an herbalist and founder of Vie Healing. "This same system responds highly to THC and CBD, triggering responses that can support healing, immune boosting, increased energy, and more." Serena Poon, a reiki master to the Hollywood elite, seconds the power of smelling CBD. "Because our olfactory system is rich in cannabinoid receptors, the molecules from inhaled cannabis terpenes bind to these and trigger the same processes and responses in the body as it would when consumed in other ways."
As for why it works—well, the logic of it is far more scientific than stoner-focused. "Terpenes are powerful compounds that do have effect on the way we feel—cannabis contains a variety of terpenes, the pungent volatile oils that give cannabis strain their distinctive flavor and aroma," the team at Plant People shares as we do a deeper dive into the trend. Their NYC-based line of high-performance hemp merges exactly this kind of scientific rationale into ancient plant wisdom. "Over one hundred different terpenes have been identified in cannabis thus far, each containing its own contribution to the overall effect of the plant," they explain. "For example, linalool (a terpene present in both cannabis and lavender) has potential sedative and anxiolytic properties by its ability to modulate activity on glutamate and GABA neurotransmitter systems." Easy, right? At least the delivery systems can be. The Swiss brand Osiris suggests applying their CBD Aroma Care Oil to the "solar plexus"—aka the area of the body that a sassy 90s revival tube top may cover. For those looking for more of an atmospheric mood, P.F. Candle Co. launched their Cannabis Reed Diffuser in an amber apothecary bottle, while SpaRoom offers three varieties of essential CBD oils (Sleep, Tranquil, and Energy) that can be dropped into a nebulizer or diffuser for an at-home vaporwave.
And capturing the idea in perhaps the most elegant fashion, fragrance brands are tapping into the movement with chic scents that can be sprayed, rolled on, or set aflame for a vanity-friendly presentation. "Once only achieved by puffing, now huffing notes of cannabis seems to elicit the same laissez faire attitude, lulling those that pass through clouds of fragrance into a state of airy bliss," says Alex Andrade, whose line of Burnin' For You fragrances harnesses notes of cannabis flower, vetiver and musk in her popular Sweet Jane perfume oil. She adds that Na Nin's fragrances inspired by music and personal memories also feature a clever cannabis and opium blend "which is lovely" and available as an eau de parfume mist. And though candles are what launched Andrade's own Brooklyn-based brand, she touts Boy Smell's Kush luminary and even purchased a cannabis-infused iteration from Herb Essentials, pleased with the product that describes itself as a "medicinal candle." Even Maison Margiela's French Replica collection now includes Music Festival, a unisex scent inspired by Woodstock with heavy hitting patchouli and "fresh bud" notes that aren't for the faint of heart. Ultimately, the CBD trend is here to stay—so why not simply take a deep breath and enjoy it?
ARDEN FANNING ANDREWS is a writer and editor who started her career in beauty at Vogue magazine with a penchant for winged eyeliner and retro-unisex fragrances a la CK One. Now freelance and traveling between her home in Wicker Park and the West Village, she continues contributing to Vogue as well as outlets like T Magazine, Paper Magazine, and WellandGood.com for beauty, fashion, and culture coverage. On a weekend, you'll find her at a synthwave show wearing notes of white sandalwood, for meetings, an almond-spiked dab of Goest Perfumes Dauphine.