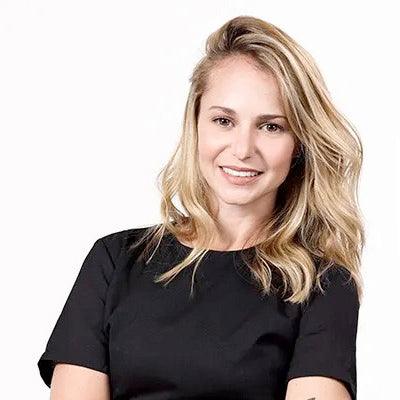 SHOVAL SHAVIT SHAPIRO, FOUNDER OF AMKIRI VISUAL FRAGRANCE
Name: Shoval Shavit Shapiro
Provenance: Tel Aviv
Where do you live now? Between Tel Aviv's coast and NYC's urban jungle.
Fragrance philosophy in a nutshell: Why wear fragrance that disappears when you can wear fragrance that can be seen?
Favorite note in the world? I love mineral notes, petrichor in the air, cool notes like spearmint, and the smell of the Mediterranean Sea.
Least favorite scent? If it's too fruity, or too sweet, it's not for me.
If you could choose one baby, what is the fragrance you are most proud of? Our very first, The AMKIRI Original Visual Fragrance™️. We are already working on our next fragrances, which will always be gender-neutral and have an iconic note.
What did you have for breakfast this morning? A deep breath and LOTS of coffee.
What does your home smell like? Fresh laundry and hints of AMKIRI Original.
What fragrance do you wear? I wear the AMKIRI Original in charcoal or white daily, depending on my mood and what I'm wearing that day. The more AMKIRI you paint on, the stronger the scent, so you'll often find me with full-on floral sleeves and hints of our geometric design.
First fragrance you owned? Believe it or not, my first fragrance was actually the Barbie fragrance. I was around five years old when it first came out. I actually begged my parents for it, I guess they could foresee the future and thought it was an appropriate gift. Later as a coming of age present when I was 12, I received my first Issey Miyake perfume which I still love today.
What fragrance(s) did your parent(s) wear? If I think back to my childhood, my mom, Aliza Shavit, who is one of the co-founders and the master chemist behind AMKIRI always smelled like the essential oils and fragrances she was working with at her lab. I can't say I remember her wearing one signature fragrance, it was always an exploration. Today, my mom wears AMKIRI in white with geometric minimalist designs. My dad always wore classic men's cologne with woody notes and still does today.
What inspires your bottle design? I actually designed the bottle myself. Most don't know this about me, but I am an industrial and visual designer by trade. One of the first things I thought about when creating AMKIRI is what the bottle would look like. Extensive research went into the design process - I wanted the bottle to be functional, but perhaps most importantly, something that inspires creativity. I turned to the history of traditional body art, tattoos, makeup and fragrance to study how self-expression has been voiced throughout centuries and within different cultures. To me, the AMKIRI bottle represents the extension of this exploration, with the sleek, iconic, quill and feather-like design being the perfect tool for self-expression in the Instagram-era of today and the innovative environment of tomorrow.
Most nostalgic scent? Freshly baked goods.
What does Tel Aviv smell like? Innovation, concrete, and a certain saltiness in the air that the sea breeze pulls in.
If not making perfume, what would you be doing? I've always wanted to invent things that make lives better, easier, or simply more amusing (fun fact, I even designed an award-winning sustainable children's toy that saves water!). Eventually my curiosity and passion to create led me to the fragrance world and I couldn't imagine doing absolutely anything else. The way I see it, fragrance is the perfect combination of self-expression, innovation, and creativity.
Last good book you read? My all-time favorite book is Alice in Wonderland. I can read it over and over again.
Least favorite fragrance trend? Body Spray.
What does 2020 smell like? It smells BOLD, magical, and like a new AMKIRI fragrance. Stay tuned ;)
Most important part of your day/routine? Coming home to spend time with my husband and Mila, our attention-seeking dog.
How do you unwind? Yoga, and when I have time, I always go to the beach. Smelling the natural fragrance of the sand and salty air gives me renewed energy.
Guilty pleasure? / Vice? Night-time chocolate cravings.
Best advice I've gotten: One of AMKIRI's earliest supporters and investors, Howard Socol, former chairman and CEO of Barneys NY, once said to me something along the lines of: "Listen to your gut, believe in yourself and your intuition. But when in doubt, sleep on it." That advice has accompanied me everyday since.
I won't leave home without: Painting at least one AMKIRI design on my arm, and popping the AMKIRI Original bottle and a few extra stencils in my bag. Just in case I feel like sprucing up the design throughout the day.
Coffee shop order? Macchiato.
I'm at peace when: I'm in the Savasana pose at the end of a great yoga practice. And also when I get an authentic hug from someone I love.