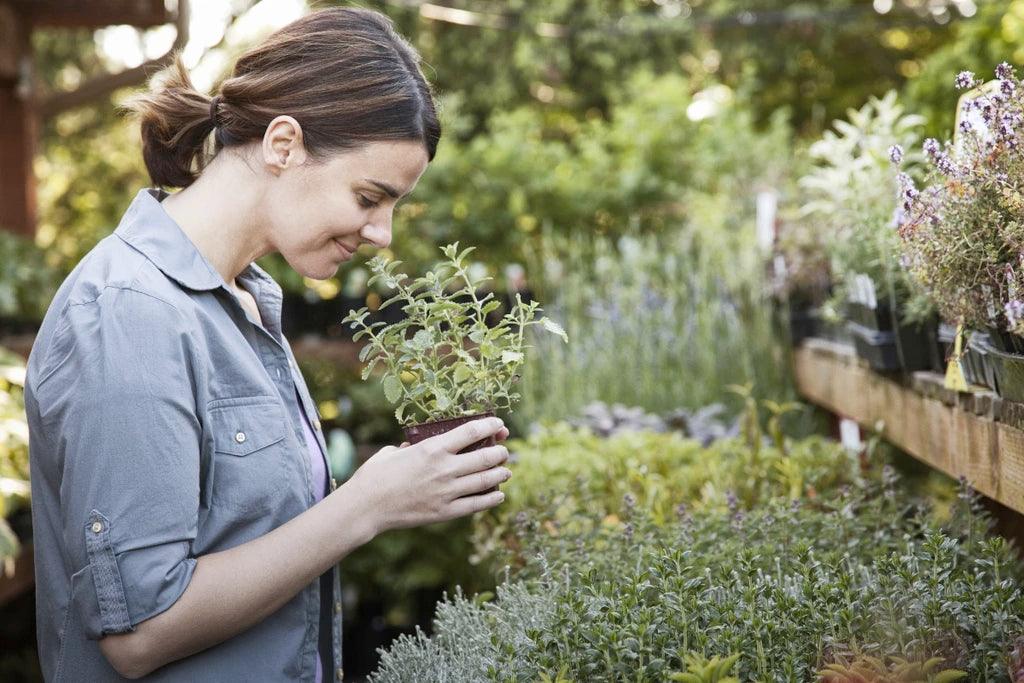 Erin Flaherty reminisces on the joys of creating a scented garden.
About a year ago, my husband and I completely uprooted our hectic Manhattan lives and moved to the small village of Woodstock in upstate New York. In a way, the relocation was somewhat motivated simply by access to nature. We had been spending weekends there for several years, and the difference between the fresh air surrounding our tiny cabin in the woods and the inescapable pollution in the city streets and underground tunnels had begun to feel especially stark. In the Lower East Side where we lived, there were menacing rats. In Woodstock, there were adorable chipmunks. Sunday evenings in the country, as we contemplated making the two-hour journey back to the city, were a version of the (admittedly privileged) Sunday Scaries. My husband was able to work remotely, and the publishing world that had always provided a successful career for me was collapsing. It was time for a change, so we did something radical and decided to make a go of it in the country.
Like plenty of urban folks, I'd long harbored the fantasy of becoming a so-called "gentleman farmer." I have a cousin who runs a real farm—she and her husband toil from dawn to dusk—so such speculation is a little akin to the idea of Marie Antoinette playing "shepherdess" at the Petit Trianon. Still, when you live in a concrete jungle long enough, nature becomes awfully exotic and appealing. (The original grid planners of NYC realized their mistake of not including enough natural space and corrected it by building Central Park over the course of the late 1800s.) Alas, my dream of frolicking amongst goats and chickens and orchards was not to be, as our lot is only a couple of acres, but our back yard is certainly more generous than the nonexistent one we had in our fourteenth floor apartment back in the city. We felt so lucky and blessed. As Gerald O'Hara famously told his spoiled daughter Scarlett, "Why, land is the only thing in the world worth workin' for, worth fightin' for, worth dyin' for, because it's the only thing that lasts." In a corner of our humble acreage, we discovered the remains of a rickety old garden with a few raised beds, surrounded by a dilapidated fence to keep the bunnies and gophers out. It was calling out to be rehabilitated, only I'd never grown anything in my entire city life.
Now, there is lots of information out there about how you can grow plenty of things indoors. Urban gardening is now a "thing," and should you be so inclined, you can Google hundreds of articles about how to go about gardening sans yard. But it was definitely a "thing" I had never done. And I couldn't bear to ignore that sad, neglected garden. We had exchanged the many benefits of city life (restaurants! museums!) for a more bucolic setting and all that holds. And gardening seemed to be a great benefit to enjoy in our new adventure.
We spent that spring cleaning out the neglected beds and patching up the fence. I researched online and spoke to the experienced gardeners at the local nursery. We tilled and hoed and all that, planting Boston lettuce, squash, basil, beans, and blissful heirloom tomatoes. (Caprese became a decadent daily summer appetizer.) But the most extraordinary part of this garden was a magical place: the herb garden.
Fragrance in all its forms has always enchanted me, therefore, growing an herb garden has been an especially rewarding experience. Keep in mind, you could plant the alluring jasmine, or ever-fragrant roses (the great perfumer Francois Demachy has long regaled me with tales of his own scent garden, which I can only assume is so extraordinary it would make Martha Stewart blush), but pruning and such seems overwhelming and advanced. I'm a lowly novice, after all, so I took baby steps.
It started with French lavender, which I noticed on sale at the nursery. The idea that the plant most notably associated with those wavy purple hills in Provence could grow in upstate New York filled me with inspiration. I bought two small bushes, dug the appropriate holes, and planted them with my bare hands, gloves be damned. Kneeling upon the ground, fingers touching soil, my nose lowered deep within the scent of lavender, was intoxicating. I was hooked. There's good reason too: Several studies show that just inhaling and touching dirt positively affects our dopamine and serotonin levels. (Surely these facts were not lost on the fragrance line Demeter, whose simple, one note scents such as "Dirt" and "Grass" went on to become enduring bestsellers.) So science tells us that gardening is beneficial to our well-being. All that crouching and standing and digging around is fine exercise, too.
The lavender sealed the deal. I wanted to pursue more sensual gems. I reserved a large bed of its own and planted richly fragrant sage. Next door to this crop, a palette cleanser of dill and chives, which attract butterflies. Beyond, a decent-sized rosemary bush. Then, sweet-smelling lemon verbena. Every plant had its own distinct scent, and simply sitting in the garden rendered a cacophony of olfactory delights, especially on a gentle, breezy day.
On the East Coast, the growing season seems painfully short, which makes gardening a very special activity to be savored. It's spring now. Planting non-essential vegetables feels a little frivolous during these desperate times. But besides their aesthetic appeal, these herbs are useful. You can toss the dill and chives into every summer salad, a sage infusion makes a very elegant butter, rosemary is lovely on steak, and lavender can be dried to make sachets. Lemon verbena is refreshing when mixed into a classic sun tea. Herbs are inexpensive luxuries that elevate the day.
Of course, if you're very, very ambitious, you can use them to make perfume. (Delve into Patrick Suskind's excellent novel Perfume for an especially gruesome, if not fascinating, account of the old-fashioned enfleurage technique.) But most of all, amongst all this chaos, gardening connects us to our most primal and sensual selves. If you're fortunate enough to be gardening right now, it's a reminder to be grateful, appreciate nature, and to contemplate the simple pleasures it can provide.