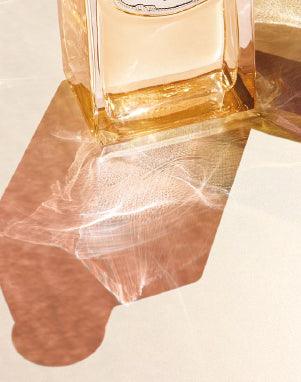 Purchasing a new fragrance requires introspection: After all, the way we choose to smell can be an intimate, emotional, and highly-personalized facet of our identity. A single spritz not only affects our own senses, it also makes a statement to lovers, friends, colleagues, and passersby. But when our favorite bottle gets discontinued, we realize we've outgrown the flirty floral scent of our youth, or simply want to spice up our fragrance wardrobe, we're faced with a somewhat daunting decision.
-- 
You've experienced the battleground that is the department store cosmetics floor, dodging unwanted sample sprays, genuinely hoping to encounter a scent that will define and empower us through our next era of life (or even the next month!). But we stumble when trying to distinguish between seemingly identical products — same scent, same bottle, same brand — and their often mysterious monikers. We ponder French words we may recognize but have never bothered to translate, and wonder if we are indeed well-prepared to make this "major" life decision alone.

Fear not! The labeling on perfume bottles may be the least complex element of fragrance itself — there are five key types of perfume commonly available, each distinguished from one another by the concentration of scent extract found in the product. The taxonomy is as follows:

Parfum or "perfume" refers to products with the highest concentration of essential oil extract (normally anywhere between 15% to 40%). Because of this percentage, parfum has a thicker, oilier texture than other fragrance types, and may be applied sparingly. This potent elixir should last up to eight hours on the skin and retails for a higher price than its more diluted counterparts, and for this reason is often is often packaged in a smaller bottle.

Eau de Parfum (EDP) refers to products with a fragrance concentration between 15% and 20%. Eau de parfum is often the highest-concentration fragrance offered by most brands. The scent lasts an average of four to five hours on the skin (though many factors can influence a perfume's staying power, such as its placement on pulse points, in the hair, or on clothes)

Eau de Toilette (EDT) refers to the next echelon of fragrance intensity, containing an essential oil concentration of between 5% and 15%. Lasting only for about two to three hours, eau de toilette generally retails for less than its accompanying eau de parfum, and may be bottled differently to properly flatter its lighter tint. Lower fragrance concentrations also may denote higher concentrations of alcohol, which can sometimes cause irritation to sensitive skin.

Eau de Cologne (EDC) is the category for products with a perfume concentration of 2% to 5%, meaning they last about up to two hours on the skin. Colognes are light and meant to be applied more frequently than other fragrance types, generally onto moist skin in order to lock in the scent for longer. Eau de cologne may also be offered in an "aftershave" form.

Eau Fraiche denotes the least-concentrated category of fragrances available, typically containing only 1% to 3% essential oils and a high concentration of water (rather than alcohol), which in combination, means these scents only last on the skin for about an hour or two, ideal for the minimalist fragrance lover.